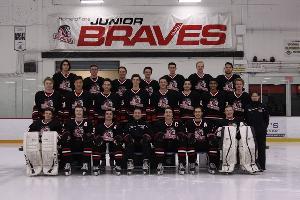 Saanich Braves
The head shave is back and the Braves are gearing up! On Friday, February 10th at the Pearkes arena, the Saanich Junior Braves will take on their rivals, the Victoria Cougars. All proceeds from the game will go to the 7th Annual Anneswer to Cancer fundraiser for Victoria Hospice. All proceeds will be donated from ticket sales, chuck-a-puck, 50/50 draw, post game jersey auction, silent auction and of course....the head shave! Doors open at 6:00 pm, puck drops at 6:30. Stay to cheer on the braves as one or two players shave their heads following the game!
The Braves hockey team raised an impressive $13,307 last year, with the goal set at $15,000 this year. To support the team, click on the red "Donate Now" button. To support a specific player, click on their name and then click the red "Donate Now" button. If the team can reach their goal of $15,000, a few Braves will shave their heads. The team is working together to reach their goal and appreciate all the support they can get from the community!!
We look forward to seeing you at the Braves hockey game on February the 10th against the Victoria Cougars. This will be the second year The Braves have teamed up with Brett Hyslop of World Cup Soccer Camp, and all money raised by the Braves, will be included in the Anneswer to Cancer soccer tournament for Victoria Hospice on May 13th.
Thank you for supporting the Saanich Braves. Victoria Hospice depends on community donations to fund almost 50% of our annual operating costs. Your gift enables us to provide quality end-of-life care for all people on our unit, in their homes or out in the community. Your donation is truly appreciated!
View More

Achievements
No Badges Have Been Earned
Team Honor Roll
Spectrum Students and Friends
$390
Harbour City Kitchens
$350
In Memory of Grandma Judy
$210
Ian and Nancy Henderson
$150
Kathy (Brad Collins)
$120
Gramps(Your fishin Buddy)
$100
Top Donors
Anonymous Gifts
Rudi Hoenson
Spectrum Students and Friends
Harbour City Kitchens
Don Mann Excavating