Anneswer To Cancer Soccer Tournament - May 11th, 2019
Get ready to lace up those cleats! On Saturday, May 11th at Topaz Park (Finlayson Turf) the 9th Annual Anneswer To Cancer soccer tournament will be taking place in support of Victoria Hospice!
Family, friends and soccer players will gather in support of end-of-life care in our community. The action packed day will include an 8 team round robin tournament and various other events including penalty shots, a radar machine and juggling contests!
This tournament raised over $54,000 last year, making the overall total raised through Anneswer to Cancer, over the past eight years an impressive $384,000, all in support of compassionate end-of-life care. Thank you to everyone who organizes and participates in this great community initiative. Your efforts are making a positive difference in the lives of patients and families in our community!
Anneswer to Cancer is always held the Saturday before Mother's Day.
Victoria Hospice depends on community support for almost half of its operatings costs, making events like Anneswer to Cancer truly meaningful!
Saanich Braves "Anneswer to Cancer" Fundraiser - October 26th, 2018
Thank you to the Saanich Jr. Braves for hosting their annual "Pink in the Rink" fundraising game in support of Anneswer to Cancer and Victoria Hospice!
On Friday, October 26th, 2018, The Saanich Braves took on their rivals, the Victoria Cougars in a "Pink in the Rink" charity game. For the fourth year in a row, and in partnership with Anneswer to Cancer, the Braves raised over $20,000 in support of Victoria Hospice. This is an all-time fundraising total for the team, and we can't thank the players, owners, management, families and of course the FANS, for all of their generous support!
In addition to playing a great game of hockey, the Braves raised funds through hosting a 50/50 draw, a chuck-a-puck game, a post-game jersey auction and a silent auction table; where many Braves fans were able to score some great prizes! Given the Braves surpassed their fundraising goal of $15,000, several players even volunteered to "go under the clippers" and shave their heads (by donation) to help raise even more!
It was a night of action-packed hockey and great family entertainment, all for a great cause. A huge THANK-YOU to everyone who came out to cheer on the Braves and who supported compassionate end-of-life care in our community!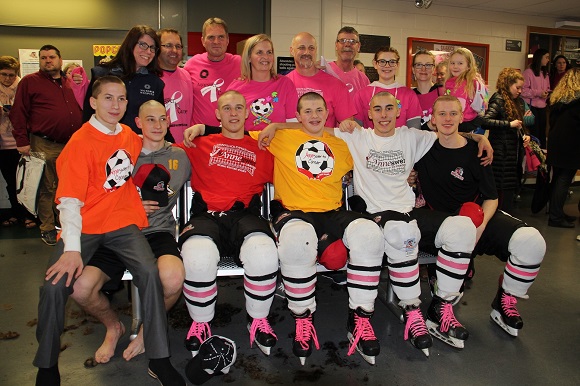 Donate:
Find a Participant or Team:
Participate:
Top Donors
Anonymous Anonymous
Ed Geric
Home Lumber and Building Supplies
Frank & Iris
Anonymous